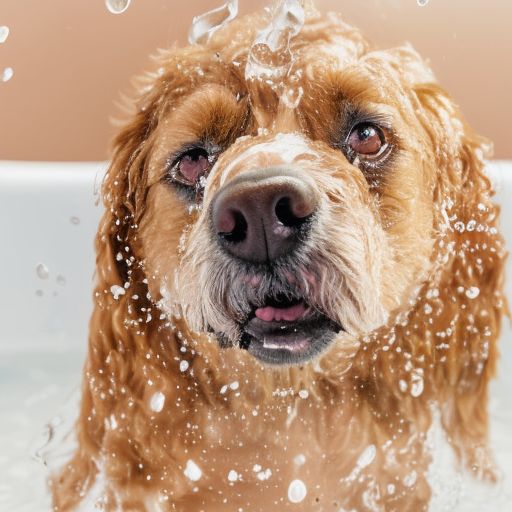 Coming Soon: Pawsitively Peaceful Shampoo Bars
Your dog's bath time is about to turn into a spa retreat with our Pawsitively Peaceful Shampoo Bars. This isn't your average dog shampoo, folks!
Brimming with the soothing goodness of shea butter and oatmeal, our bars are designed to pamper your pooch's skin and coat, leaving them moisturized and looking their absolute best. It's the kind of luxury even the most discerning doggie deserves.
But the magic doesn't stop there...
Our bars feature scents that studies show dogs absolutely adore. Does your pup need a little calming serenity? Vanilla Rose Bliss is the answer, its aroma weaving a delicate blend of vanilla and rose that helps reduce anxiety and promote calm. Or maybe, your furry friend needs a boost in mood and better sleep? Lavender Mint is your go-to, with a scent that's a perfect night cap.
Make no mistake, these aren't just shampoo bars - they're little blocks of Pawsitive Peace, ready to transform bath time into an aromatherapy experience for your four-legged friend. So, get ready to turn those tails into wagging wands of pure happiness!
The Pawsitively Peaceful Difference: Natural, Nurturing, and Next-Level!
What sets our Pawsitively Peaceful Shampoo Bars a class apart is the all-natural goodness we pack into each bar. Unlike store-bought shampoos, ours are devoid of any harsh chemicals, artificial fragrances, or synthetic detergents that could potentially harm your dog's skin and coat.
Instead, we prefer to pamper your pooch with the purest of ingredients. Shea butter and oatmeal, known for their moisturizing and soothing properties, form the luxe base of our bars. On top of this, we infuse each bar with natural aromas - Vanilla, Rose, Lavender, and Mint - that don't just smell divine but also offer therapeutic benefits for your furry friend.
In essence, our Pawsitively Peaceful Shampoo Bars aren't merely about cleaning – they are about providing an overall soothing and rejuvenating experience that benefits your dog's skin, coat, and well-being. Now that's a level of care and luxury you won't find in your average store-bought shampoo!
A Special Invitation: Try Pawsitively Peaceful Shampoo for Free!
Would you like to introduce your fur-baby to the luxury of Pawsitively Peaceful Shampoo Bars, absolutely free? Of course, you would! We are thrilled to offer you a chance to experience the Pawsitive Peace difference without spending a single dime. We just want your feedback!
Simply sign up using our form, and we will send you an email to pick up your bar of our Pawsitively Peaceful Shampoo Bar. Choose between the calming serenity of Vanilla Rose Bliss or the mood-boosting goodness of Lavender Mint! It's time to transform your dog's bath time into a soothing spa retreat.
So, what are you waiting for? Sign up now and let your furry friend bask in the bliss of Pawsitive Peace!